#MASKS4ALL
 These home-made masks are an alternative and not a replacement for N95 medical masks. Due to the worldwide demand, these N95 masks are in short supply and belong with the frontline essential services workers.    When leaving the home please ensure you use a mask, The mask does not replace the following measures :
1. Social distancing.             2. Stay at home          3. Hygienic practises
 How to make your own mask at home.  https://thefunnybeaver.com/make-diy-home-made-face-mask/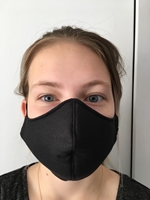 Please contact us to check stock before placing your order. MEN: (0 IN STOCK) SOLD OUT. LADIES: 4 IN STOCK. KIDS 3-6 YEARS : 6 IN STOCK. KIDS 7-12 YEARS : 5 IN STOCK.