Hygiene & Water Conservation
 

 The URIMAT MB-Active Cleaner with Kalkex has a microbiological action and is particularly suitable for maintenance cleaning and odour removal in heavily used sanitary facilities. The microbiological action of MB-Active Cleaner deeply penetrates the pores, breaking down the odorous organic residues deposited there. Its daily use prevents bad odours from developing & provides excellent hygiene.

 

 

 

 

Environmentally friendly,

100% biodegradable,

Excellent dermatological rating,

Non-toxic,

PH-neutral,

Contains Kalkex for removal/prevention of lime scaling,

Multi-purpose cleaner.

 
MB Active Cleaner 10 Liters concentrate. Makes up to 500 liters.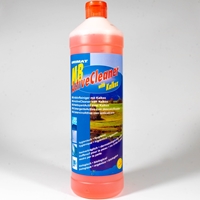 MB Active Cleaner 1000ml concentrate. Makes up to 50 liters.